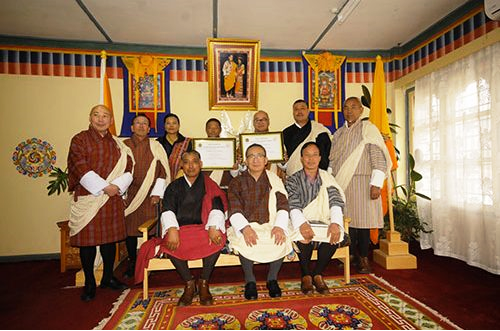 Bhutan Accreditation Council (BAC) accredited the College of Natural Resources (CNR), College of Language and Culture Studies (CLCS), and Royal Institute of Management (RIM) in Thimphu on May 10.
All three were graded A.
Education secretary Karma Yeshey said it is an important milestone for the council as it completes the first cycle of accreditation for those who qualify to be accredited. "Each institute is qualified to be accredited one year after the completion of the first batch of graduates."
Although there are two kinds of accreditation, the council focuses on institutional accreditation, he said.
"The council would initiate programme accreditation in future with the help of professional councils. We also plan on facilitating regional and international accreditation."
The purpose of the accreditation is to ensure that all Tertiary Education Institutes (TEI) meet a minimum standard. It is also aimed at advising, supporting and encouraging TEIs to maintain and enhance their quality of services.
The accreditation process involves colleges to submit an Institutional Self-Assessment Report (IASR), which the accreditors study, and carry out site visits for validation and endorsement.
It was learnt that a team of three accreditors are appointed for each college.
The findings outline numerous recommendations based on the strengths, areas of improvement, opportunities and challenges.
Accreditation was first piloted in two colleges, Royal Thimphu College and Gaeddu College of Business Studies with support from Malaysian Qualifications Agency in 2015.
Both colleges were accredited the following year. The council also plans on reviewing the Accreditation Manual based on the experiences acquired.
President of CNR, Phub Dorji (PhD) said he gained good experience in terms of documentation. "Most of the things that we did were not documented. Accreditation gave us a chance to document everything. In doing so, we learnt what we were doing, what we were not doing and what we were supposed to do."
He said that through the interaction with the accreditation team, the college learnt about the best practices that existed in the country and abroad.
"I am content with the grade A as we have room for improvement. This will motivate us to work harder and strive to achieve A+."
According to the Accreditation Manual 2014, the grading system demonstrates greater objectivity and accuracy in the process of assessment and accreditation.
Royal University of Bhutan's (RUB) vice chancellor Nidup Dorji, said that the accreditation exercise had been a great learning process for colleges.
"As higher education institutes, we have three core functions. First being teaching and learning, second research and third, community services. These reports will be useful to deliver our mandates."
Of the 12 colleges that were accredited, nine colleges were awarded grade A, two colleges B and one A+.
Rinchen Zangmo