The Higher Education Planning Division (erstwhile Tertiary Education Division) has been established as one of the divisions under the Department of Adult and Higher Education, Ministry of Education in 2008. The division has an important mandate of ensuring sound tertiary education system in the country by serving as Secretariat to the Tertiary Education Board (TEB). TEB is the highest executive decision making body appointed through an Executive Order with all matters relating to tertiary education in the country.
This is in synchronization with the Tertiary Education Policy of the Kingdom of Bhutan 2010 that envisages TEB to oversee and provide direction to Tertiary Education Institutions on planning and funding, registration and licensing and quality assurance through the support of Bhutan Accreditation Council (BAC) and the Registrar for Tertiary Education.
The TEB was formed as per the clause 9 of the TEP, 2010, and was endorsed by Lhengye Zhungsthog with an executive order from the Government of Bhutan. The Board was formed with the Hon'ble Minister of education as the Chair person and many other relevant government secretaries as the Members.
Mandates:
Some of the mandates of Higher Education Planning Division are:
Develop policies and guidelines for the growth and development of tertiary education system in the country.
Function as Secretariat to Tertiary Education Board.
Facilitate and monitor establishment of universities/ colleges/ institutes for providing enhanced choices of tertiary education within the country.
Serve as information repository for tertiary education.
Implement Student Loan Scheme for Tertiary Education (SLSTE).
Execute activities related to SAARC.
Issuance of sector clearance of visa for foreign students and faculty members coming to study in Bhutan under student exchange programme to private TEIs
Staff Profile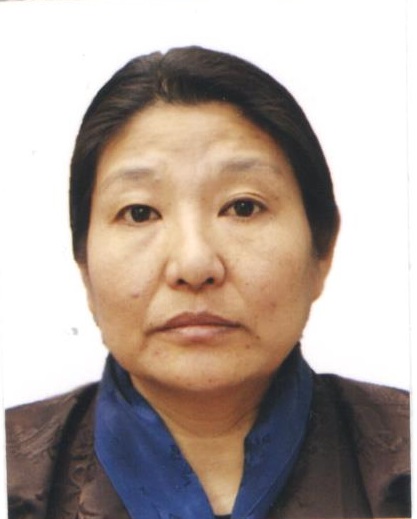 Mrs.Rinzin Wangmo, Chief Program Officer of Higher Education Planning Division, Department of Adult and Higher Education is from Kanglung, Trashigang Dzongkhag, Eastern Bhutan. Her educational qualification includes B.com (Hons), Post graduate in Education and M.Ed in Leadership and Management in Education.
After the completion of her teacher training, she taught Economics and Mathematics in Higher and Lower Secondary school for 4 years and thereafter, she served as Vice principal for another 8 years in a Middle Secondary School. Then she worked as Principal for 5 years in Lower Secondary and Middle Secondary school. During her tenure in various schools, she worked as teacher, administrator, manager and club coordinator etc. She also attended various workshops such as Test blue print, Tarayana club coordinator, UNESCO club coordinator, Counseling, Life skill workshop etc. she facilitated workshops for students as well as teachers.
She joined the Department of Adult and Higher Education as Chief Program Officer since 2013. She received Certificate for dedicated service toTshawa sum (20 years) from His Majesty the King of Bhutan.
She is the author of 'Education for International Understanding (EIU) school based initiatives in Bhutan' and also the won the EIU best practices award in 2010 from Asia Pacific Centre for Education for International Understanding (APCIEU), South Korea. She attended the Education USA Leadership institute organization and Internationalization in Portland, USA in 2016. She is also the writer of 'Gross National Happiness: How does Bhutan's Education of Holistic citizens create opportunities across the Bay?' in Advancing sustainable socio- economic development through Education in the Bay of Bengal Region.
She is fond of reading, writing, knitting, reciting prayers, visiting holy places and mediation.