News and Events
Details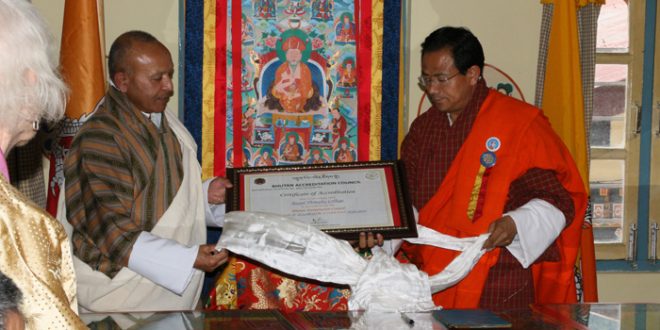 Education minister Norbu Wangchuk awarded accreditation certificates to the Royal Thimphu College (RTC) and Reldri Academy of Health Sciences (RAHS) in Thimphu yesterday.
The first of its kind, the accreditation process involved a four-day visit by Bhutan Accreditation Council's (BAC) team to the two institutions during which the team observed classes, met with the management, faculty members and staff, inspected the infrastructure, talked with students, and scrutinised documents supporting the reports submitted by the institutions, among others.
Lyonpo Norbu Wangchuk said that tertiary institutions are important national institutions.
"We have to look up to our tertiary institutions as fountains of the nation's character building where our graduates' talents and minds are nurtured so that they are able to harness the new opportunities that the new times offer," Lyonpo added. "We look up to our national institutions as conscience of our society."
Details
In what could provide students aspiring to pursue further studies with better knowledge in selecting institutes within and outside the country, the Royal Civil Service Commission has evaluated the performance of students in the Bhutan Civil Service Examination by institute for the last five years.
Among students from more than 200 different institutes within and outside the country, students of Sherubtse College have always performed better than other institutes in the Preliminary Examination (PE) as well as the main examination.
The Gaeddu College of Business Studies, Royal Thimphu College, College of Science and Technology, RVS College of Arts and Science in India, Institute of Language and Cultural Studies and College of Natural Resources, among others, follow.